March 23, 2023
Forest ecosystems provide numerous benefits for society: besides providing timber for construction or fuel, forests play a crucial role in cleaning the air and water and preventing floods. They also offer a home for wildlife as well as a place for recreation and relaxation. Forests are natural providers of services and the reason a total of 3.6 million people across different fields had work in 2021. While total employment in the EU increased by 5.9% between 2011 and 2021, employment in the forestry sector decreased marginally in the same period (-0.4%).
With more than 159 million hectares of forest, the EU had 3.2 million people working in activities related to forestry and wood-based industry in 2021 (classified by NACE Rev. 2), and another 437 thousand self-employed people in that sector.
The activity that employed the most people was the manufacture of furniture, which recorded a total of 1.1 million employed people and 174 thousand self-employed people.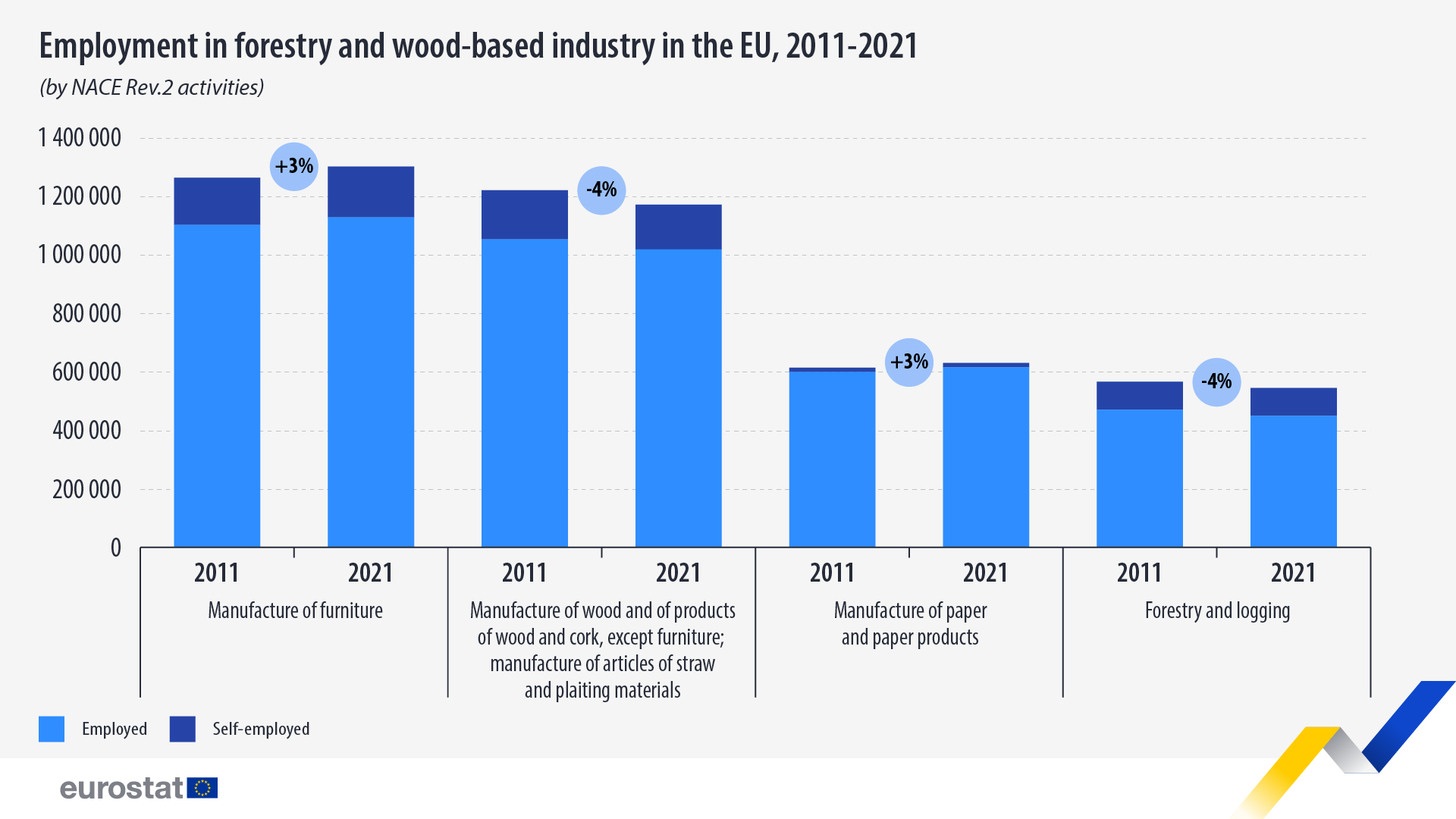 The second largest employer was the manufacture of wood and products of wood and cork (except furniture) and the manufacture of articles of straw and plaiting materials, with 1.0 million employed people and 153 thousand self-employed. The manufacture of paper and paper products came third with 615 thousand employed people and 15 thousand self-employed. Forestry and logging registered the smallest number of workers: almost 450 thousand employed people and 95 thousand self-employed.
---
Source: Eurostat
Legal Notice: The information in this article is intended for information purposes only. It is not intended for professional information purposes specific to a person or an institution. Every institution has different requirements because of its own circumstances even though they bear a resemblance to each other. Consequently, it is your interest to consult on an expert before taking a decision based on information stated in this article and putting into practice. Neither Karen Audit nor related person or institutions are not responsible for any damages or losses that might occur in consequence of the use of the information in this article by private or formal, real or legal person and institutions.
---